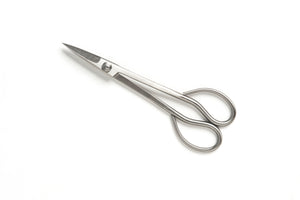 These long reach stainless steel scissors are designed for pruning delicate branches, twigs and buds. We use this tool at the nursery more than any other, as they are perfect for ongoing pruning and maintenance throughout the growing season. The slender handles are ideal for those difficult to reach places. The artists at Chojo find them essential, as the thinner cutting blades are a preferred choice when presented with detailed work including shoot and leaf pruning. This tool is razor sharp to ensure a fine cut and to avoid crushing delicate growth.
This tool has an approximate length of 180mm.
Chojo bonsai shears and branch cutters are made from brushed stainless steel that will maintain its edge for decades given appropriate use. Our tools can be professionally resharpened should the need arise.
The video below provides an example of how to use this tool.