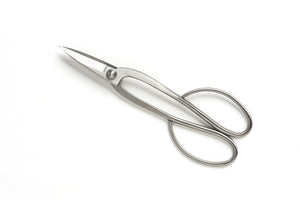 If you only have one set of shears, these are the ones for you. They have the agility for fine work however the reinforced blades can handle a larger branch up to 15mm across. The spacious and comfortable handles allow for every day use and are perfect for the amateur bonsai enthusiast. Because of their versatile use, they are our number one seller. The large handles allow you to use all your palm and fingers to exert maximum pressure. This design also enables the user to multitask by freeing up one's fingers to pinch off new growth without putting down the shears.  
This tool has an approximate length of 210mm.
Chojo bonsai shears and branch cutters are made from brushed stainless steel that will maintain its edge for decades given appropriate use. Our tools can be professionally resharpened should the need arise.
The video below provides an example of how to use this tool.