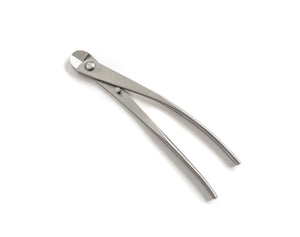 The amazing feature of bonsai wire cutters is that they cut cleanly through applied wire up to 5mm that is close to bark without causing any damage to the tree. If you have struggled to remove wire from an entire bonsai with general purpose wire cutters you will understand the benefits of having a pair of wire cutters that are fit for purpose.
Chojo wire cutters are approximately 210mm in length and are made from brushed stainless steel that will maintain its edge for decades given appropriate use. Our tools can be professionally resharpened should the need arise.
The video below provides an example of how to use this tool.