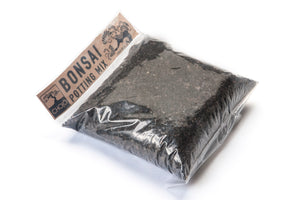 Bonsai potting mix is specifically formulated to drain freely and promote vigorous root development. Chojo potting medium has been refined over many years of use in our nursery. It consists only of premium components that will maximise the health and growth of your bonsai.
The right potting mix is critical to getting the most out of your bonsai, so we strongly recommend investing in a quality product. 
The mix is packaged in a convenient size for shipping and is sufficient for repotting 3-5 medium sized bonsais.
Size: 6 litres
Weight: 4 to 5kg